ABOUT US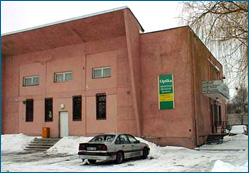 Companies' group AVIGA started its work in 1992 and in 1995 achieved the present structure.

In 1992 the private company AVIGA UAB was established
In 1994 the private company EUROTERA UAB was established
In 1994 the company MEDICININE TECHNIKA UAB was purchased
In 1995 the company GERAGRA UAB was established
Activity of AVIGA's companies' group:
MANUFACTURE:
Manufacturing of electric and grounding shields for medical companies, signal appliance for system doctors' cabinets and patients' sections, tags for alcohol measure devices and other products.
TRADE:
Import and export of equipment, furniture, technique and technologies, instruments, teaching material for medicine, laboratory, odontology, optics and ophthalmology, X-ray, sterilization cabinets, cosmetics and beauty salons.
Import and export of measurement and work means, made for control and monitoring of environment and working places.
Import and export of special measurement and work means for troops, police and other spec. offices.
Import and export of traffic regulation and accounting means, speed measurers, alcohol tester, drug tester, equipment for mobile and computerized police working places and other products.
Trade of special autos and their equipment.
Trade of air, water, ground building materials measurement and testing equipment.
Trade of testing equipment of food, grains; trade of mills and others.
Retail of medical and laboratory glass products, instruments for cosmetic and beauty salons, industrial, household, food, hygiene and other products, means for environment protection, safety at work and teaching; measurement equipment, glasses and others.
SERVICES:
Dental care, treatment and prosthesis;
Glass production, repair and trade;
Technical and technological mounting, adjusting, repairing, coordination, calibration and technical service works of medical, measurement, testing and trial equipment; metrology testing of measurement tools.
Companies' group AVIGA is a perspective, using the newest technology and the latest academic ideas, seeking to satisfy partners' and clients' demands in the country and abroad.